Unique locations with sunset view and excellent drinks
The 5 most beautiful places for an aperitif in Trapani
If you are looking for a place where peace, serenity and conviviality blend with the spectacular landscape that nature offers do not fear: Trapani has everything you are looking for and more.
Everyone knows how Sicilian sunsets are part of the tourist heritage of this fantastic island. Enjoy an aperitif with friends at sunset, with the sun fading kiss your skin is always a different emotion, from time to time.
In Trapani there are some particular places where it is possible to do all this; enjoy such a beneficial natural resource in front of a good drink or a cup of peanuts, all in good company of course.
Take a couple of minutes to get to know the places that offer breathtaking sunset views!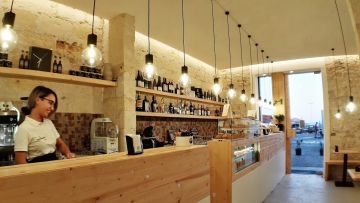 1. Nettuno Lounge Bar is one of those places that feels like home. With its modern furniture and never taken for granted, offers not only the aperitif but also a wide range of pastas and typical food, in addition to the suggestive view of the fishing port and the Egadi Islands, which becomes a true impressionist painting at sunset.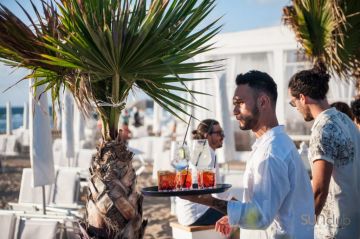 2. Pampering and quality are fundamental characteristics at the SunClub. New glamorous beach resort, is the ideal place for an aperitif on the beach. Also valid as a restaurant for dinner.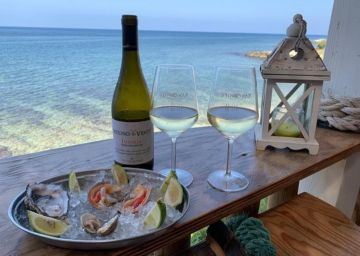 3. Chiosco del mare, in Pizzolungo, 7 minutes away by car from the center of Trapani. It is presented in all the splendor offering seafood as in a real fish market. Here it is possible to appreciate clams, mussels and oysters combined with excellent Sicilian wine, all within a suggestive wooden veranda in direct contact with the sea. What happens at sunset? We let you imagine.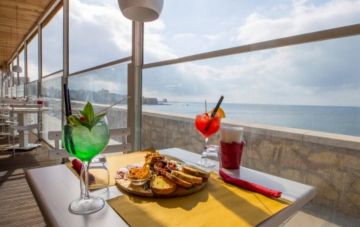 4. Located on the historic city walls and surrounded by the ancient fishermen's houses, Tramura is a young and welcoming restaurant with an extensive menù. Small tables along one of the most popular stretches of Trapani, where you can enjoy a breathtaking view of the sea and the beach below.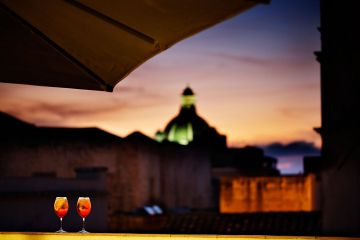 5. A few steps from Via Torrearsa, on the 4th floor of the hotel Badia Nuova is the terrace with lounge bar where you can discover an unusual panorama of the city. Here you can also admire the domes of the cathedral and the clock tower. Intimate atmosphere and excellent cocktails, local is perfect if you want to organize a romantic evening.