Salt pans of Trapani and Marsala 
How to reach and what to know about Salt pans of Trapani and Marsala
Western Sicily means sea and, indirectly, also means Salt pans. Recognized all over the world as one of the most evocative and historically relevant places in Sicily, the salt pans are a real cult for the Sicilians, especially in the province of Trapani, where the two large positions of Saline are located in Trapani and Marsala.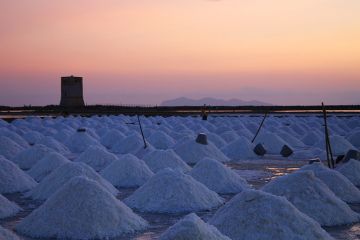 The oriented reserve of the Salt Pans is a heritage largely entrusted to the WWF where salt is extracted according to ancient traditions. Even today, in fact, a large number of salt pans remain active and in full production throughout the year; can be admired deserted or during the charge of water, or when the mountains of salt are already covered by tiles or better "ciaramire". A unique spectacle.

Reach the Saline from Trapani is very simple: the route runs through the provincial road SP21. Following this route you can admire the Salt Pans of Trapani and Paceco, and then reach the Salt pans of the city of Marsala, located in Ettore Infersa district.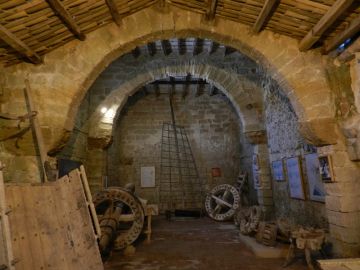 In Paceco, very close to the town of Trapani, your first stop will be Nubia (about 7 minutes from the center of Trapani), a fraction of the town of Paceco which houses the Salt Museum in Trapani. Here you can discover the history of the extraction and processing of sea salt at a cost of 1 euro.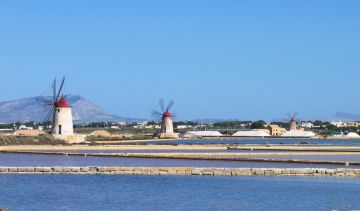 Walking along the street, on your right you will therefore have the sea for most of the route, but then it will be like "diving into a fairy tale". Huge windmills and tanks full of water will be the view from Paceco to Marsala,in a mirror that looks like it came out of a comic book.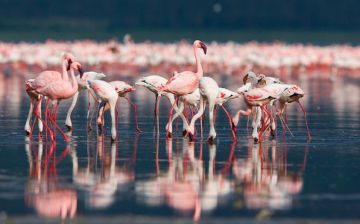 Thanks to their natural humidity, moreover, the Salt pans are also the perfect place to admire rare birds and groups of migratory birds such as white flamingos and pink flamingos, symbol of the salt pans of Marsala and some places that have appropriated it.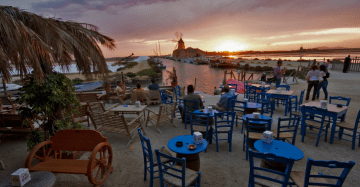 Arrived near Marsala the adventure does not stop. New stop in Mammacaura, which takes its name from one of the salt pans, is a place of natural charm, unmissable tourist destination of this tour. Here you can enjoy an aperitif at sunset admiring the salt pans a few meters away, and then learn about the history of this tradition by taking a guided tour of the Ettore Infersa mill. From this point you can also take a boat to reach the islands of Stagnone, Mothia and Isola Lunga.